M/s VAPTEC LLC is a reputable elevator and lifts service company that works with a wide range of brands. We have the resources to meet all of your maintenance commitments, regardless of the brand, because of our wide global relationships. Lifts in Dubai, Sharjah, and Ajman are installed, maintained, and repaired by trained professionals with access to the necessary equipment. U.A.E. emirates of Sharjah, Ajman, and the rest, as well as any readily available major brands including Diafuji, Sanyo, and Mitsubishi.
We keep in stock components from the most popular and reliable equipment manufacturers. We now service and repair Sigma, KONE, Otis, Fujitec, Thyssenkrupp, Hyundai, Hitachi, and elevators from Schindler, Toshiba, York, and many more in the United Arab Emirates. You can also get the best overhead crane maintenance from us at cost-effective rates.
Consider some of the Advantages of working with VAPTEC LLC:
Improves Security
Safety managers and technicians at VAPTEC LLC, the only leading expert service company in the UAE, are NEBOSH and IOSH qualified and have more than 20 years of experience in their respective professions to ensure that all of the protection demands are addressed following the most recent applicable European criteria. Customers, end-users, and/or operators' safety is equally important to us as is the safety of our employees.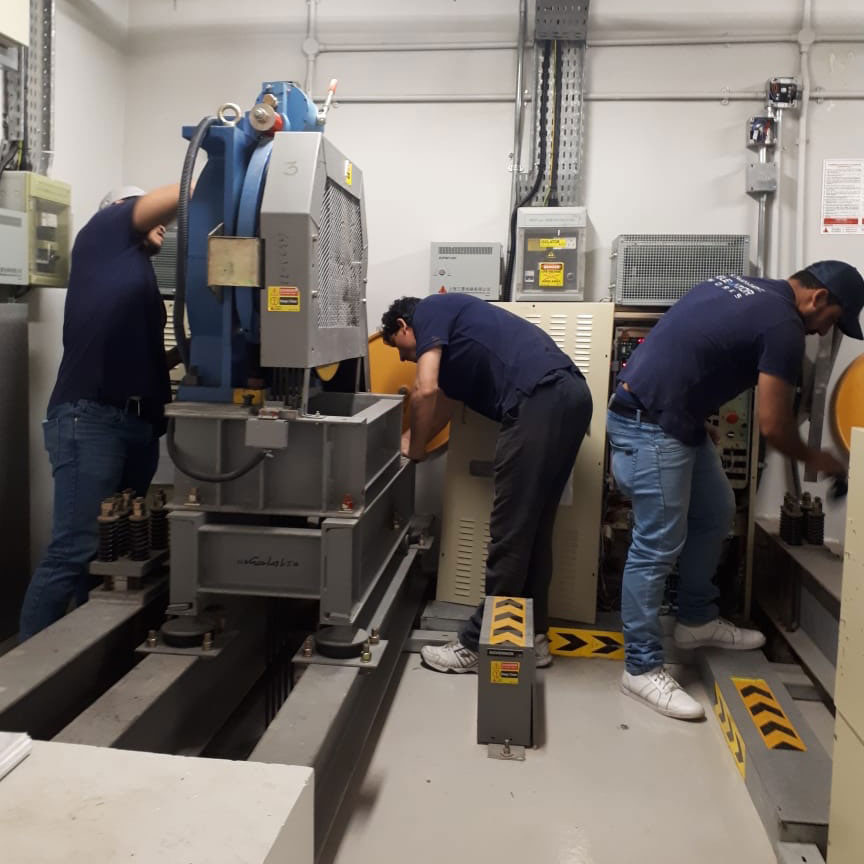 Competent Professionals in the Lift Business
The technical staff at M/s VAPTEC LLC has extensive experience in the field and access to the latest resources. Since this is so important, we will only choose the most competent specialists to guarantee the system's long-term viability and security. Our majority of employees have decades of experience maintaining and repairing Schindler, Toshiba, York, and Mitsubishi lift in the Dubai area of the United Arab Emirates.
Each member of our on-site personnel receives comprehensive and frequent training to ensure they can consistently give our clients the best service possible. Separate teams with their headquarters oversee elevator maintenance in Dubai, Sharjah, and Ajman. Before they are officially designated as regularly scheduled field service staff, our service technicians undergo extensive training.
Reducing Product Losses
The in-house engineers and skilled technicians of M/s VAPTEC LLC can anticipate problems and take measures to avoid them, hence extending the product's lifespan. Maintaining a well-serviced and reliably operating Hyundai can lengthen the useful life of its components.
To extend the life of the machinery and reduce the probability of breakdowns, M/s VAPTEC LLC will perform regular preventative maintenance on it. To ensure that all of our equipment is in peak operating condition at all times, our AMC agreement features a preventative maintenance program. Our professionals will clean, lubricate, and realign any necessary parts that have become worn from use, so preventing the basic parts from overheating and extending their useful life.
Avoid Spending Money on Unneeded Maintenance
For all of the machinery that M/s VAPTEC LLC has serviced in the past, there exists a detailed log. By keeping tabs on how often each piece of equipment is serviced, we can reduce the amount of money spent on repairs and the amount of time lost due to unanticipated breakdowns.
Quickness
To ensure that all of your safety requirements are met following the most up-to-date technological European standards, M/s VAPTEC LLC, a first-rate service provider with in-house security managers and engineers who have more than twenty decades of experience in the relevant fields, develops a personalized emergency management plan. They provide the utmost level of emergency effectiveness from the machinery by using this unique technique to enhance emergency management.
To ensure that all essential personnel and important contractors are always prepared for any emergency, M/s VAPTEC LLC implements a series of safety procedures based on the equipment's safety standards. Looking for York elevator Services? Get them from us today!
Effortless Upkeep
M/s VAPTEC LLC's service plan includes preventative maintenance consultations from experts and attentive experts with over 20 years of experience. Following the strict guidelines of the ISO 9001 Quality Management System, our preventative maintenance program keeps detailed service records to determine the current condition of the machinery, makes reliable failure predictions, and routinely inspects the machinery's layout to improve its usability, manufacturing efficiency, and environmental friendliness. As a result, we can build a plan for future maintenance.
Breaking Down Barriers
As a result of their extensive experience in the field, the expert Engineers at M/s VAPTEC LLC have found a way to optimize the maintenance management system so that all major spare components are more readily available and compatible. Our ISO 9001 Quality Management System's stated documentation methods help us improve preventative and corrective downtime, cut down on breakdowns due to human error, and spot and fix problems before they escalate.
No matter the make or model, M/s VAPTEC LLC always creates a handling strategy that is perfectly suited to the needs of the site in question. Because of the specialized care, we offer each piece of equipment in our maintenance programs, we can keep operations operating smoothly with comparatively few breakdowns.
We hope these advantages have shown you why VAPTEC LLC deserves your consideration as one of the best Cox Spare Parts.